UK businesses are now more confident than before the Brexit vote, according to a new survey.
The UK Economic Index showed that business confidence jumped to 112.4 in September, having dropped as low as 105.0, after the shock 23 June vote. A reading above 100 indicates positive business sentiment.
The widely watched measure from YouGov and the Centre for Economics and Business Research polled more than 500 business leaders between 15 and 23 September.
Almost half of the business leaders surveyed (44 per cent) are now optimistic about the UK's economic outlook for the coming year, up from 35 per cent before the Brexit vote.
Scott Corfe, a director at the CEBR, said: "The panic that gripped businesses in the aftermath of the referendum has subsided and they are now much more level-headed and optimistic about the future of both their own organisations and the UK's economy in general."
The numbers come after further positive data from the service sector, which makes up the majority of the UK economy. The purchasing managers' index (PMI) showed a sharp increase in September. Construction and manufacturing reported similar gains this week.
Consumers are also feeling more bullish about the future after taking a Brexit hit, according to last week's YouGov figures. Confidence is close to recovering its pre-referendum level, according to the survey.
But Mr Corfe cautioned that recent comments from the Conservative Party could have a notable impact on business sentiment.
He said: "It should be noted that this research was carried out before the Conservative Party conference and all the talk of hard Brexit implying that the UK would prioritise immigration restrictions over access to the European single market.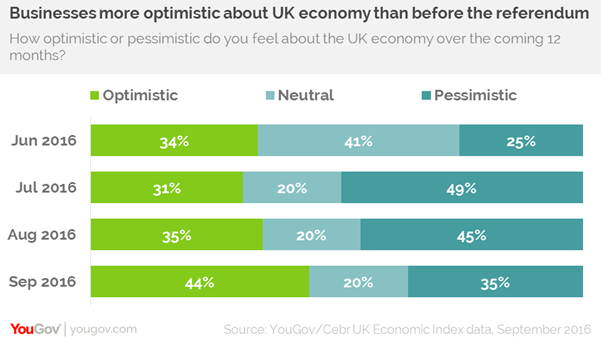 "Once the shape of our economic relationship with the EU becomes clearer, these figures could shift notably."
Analysts have also pointed out that the reality of Brexit has not yet hit as the UK still benefits from free trade with Europe's 500 million people.
The dramatic fall in the value of pound will eventually mean less purchasing power for businesses and consumers as the price of imports increases. The currency hit a 31-year low against the dollar this week and crashed six per cent in a few minutes last night. Sterling is trading at close to its lowest ever level when measured against a basket of several global currencies.
Reported in the Independant

Ben Chapman Friday 7 October 2016